Our beautiful Briarwood Native Prairie made Doc Long a Clair M. Kucera Prairie Landowner of the Year Award recipient for outstanding contributions to the cause of prairie through ownership and stewardship. Briarwood Native Prairie is the only half section of Native Prairie left in Western Missouri and is an ecosystem dependent on disturbances. Without management practices like periodic, prescribed fire, woody species will invade, decreasing the biodiversity of prairie-dependent species. Vigilant control of invasive, non-native herbaceous plants like sericea lespedeza and tall fescue is necessary to maintain native plant species diversity as well as diversity of the native insects and other wildlife that depend on those plants.
To establish and enhance this rolling 320 acres in Bates County Missouri, of which 280 are Native Prairie and the remaining 40 mature timber, we execute timely improvements. Currently, a Savanna restoration is underway, adding even more variety and quality to the 273 documented species of plants on the site.  Annually a number of steps are taken to ensure the prairie's health, beauty and longevity so that generations to come can enjoy her diversity.
1. Sericea Lespedeza Eradication
2. Liming
3. Prescribed Annual Burn
4.Wintertime Spraying
5. Haying
Hayed plots are the most similar to burned plots in terms of soil moisture, temperature and litter quantity. Haying at our Briarwood Prairie produces approximately 550 to 600 round bales per year with only liming. — Doc

   
One of our favorite days of the year is when we welcome our customers to have Angus beef served at a farm luncheon on the prairie. Thanks to expert prairie biologists, soil conservationists and beef cattle geneticists or Angus Association representatives, we've provided an informative and interesting program each time. The highlight of the day, however, is a guided tour over Briarwood Native Prairie and a close-up encounter with the diverse and beautiful plant life.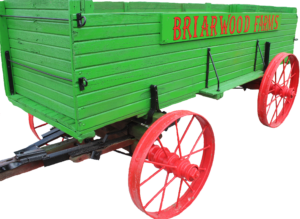 Ride along @BriarwoodAngusFarms 
©2017 Web Design by The Word's Out